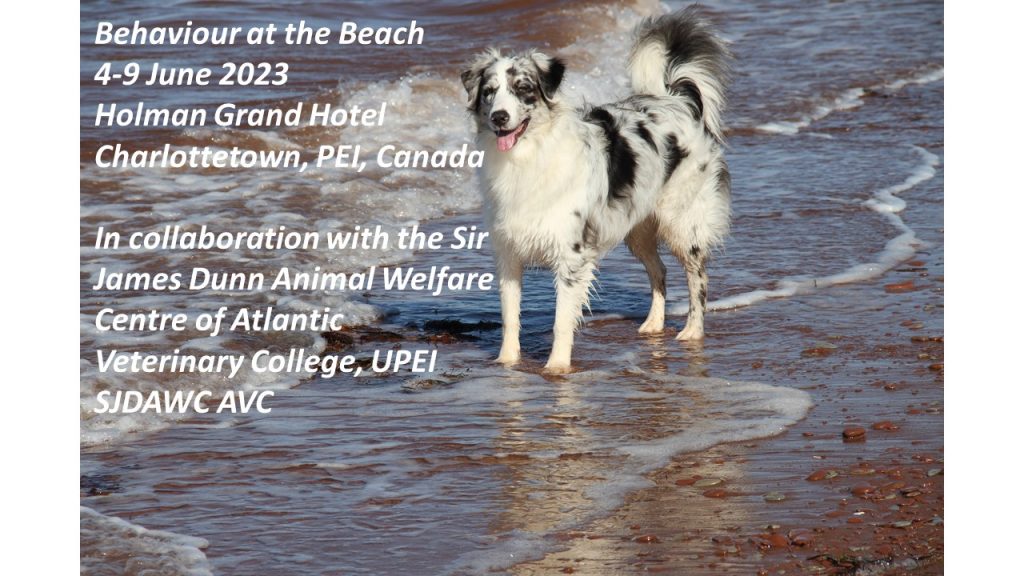 BEHAVIOUR AT THE BEACH! A data and case-based, intensive immersion course in Behavioural Medicine organized by the Sir James Dunn Animal Welfare Centre, Atlantic Veterinary College, UPEI, 4-9 June 2023
THE PROGRAM:
Program Description:
This course provides 4.5 days of lectures and evidence-based case discussions on clinical behavioural medicine. Because of the evidence-based, topical nature of the course, and the emphasis on questions and cases, this course is suitable for veterinarians ranging from novices through those who see behavioural medicine cases in practices. To keep the intimate, critical thought focus, the maximum enrollment is 40 veterinarians. Our goal is to give practicing veterinarians the tools to help care for their patients' mental health as well as they do their physical health, throughout their lifetimes. Behavioural complaints and problems remain the biggest cause of pet death and relinquishment. Early intervention at both the general practice and specialty practice level is essential, but you have to know what to do. Special focus is on taking an informative history, understanding behavioural pharmacology and using it effectively, and understanding and treating a range of conditions driven by anxiety and fear.
Program Agenda (also see the lecture schedule):
Behavioural pharmacology
Effective and detailed history taking – definitions and words matter
Assessing videos of behaviour – focus on quantitative and objective assessment and deviations from normal
Roles for neurodevelopment and genetics in behavioural disorders
Diagnosis and treating fear and anxiety related conditions

Fighting housemates (cats or dogs)

The special case of rescued animals
Learning Objectives:
All attendees will be able to take a detailed history and understand were the risk of thinking they know more than they do may lie
All attendees will grasp the basics of prescribing psychopharmacologic agents to dogs and cats, how to choose their first line medication, what to do when medication fails, and medical and somatic risks of medication.
All attendees will be able to write and implement treatment plans that include integrated, multi-modal interventions tailored to the individual patient.
DATES:
Course – Monday 5 June 2023 through Friday 9 June 2023 (Arrival – Sunday 4 June 2023; Departure – Friday night 9 June 2023).
FACULTY: 3 internationally recognized experts in the field:
Karen L. Overall, MA, VMD, PhD, DACB, Professor, AVC, UPEI, Charlottetown, PEI Canada (Course Leader)
Goncalo da Graça Pereira, DVM, MsC, PhD, Dip ECAWBM (BM), Instituto Universitário Egas Moniz, Charneca da Caparica, Portugal, Escola Superior Agrária de Elvas, Instituto Politécnico de Portalegre, Elvas, Portugal, Departamento de Medicina Veterinária, Universidade de Évora, Portugal
Kersti Seksel BVSc (Hons), MRCVS, MA (Hons), FANZCVS, DACVB, DECAWBM FAVA, Registered Veterinary Specialist in Behavioural Medicine; Adjunct Associate Professor Charles Sturt University, Adjunct Professor University of Queensland, Australia
LOCATION:
Holman Grand Hotel – Charlottetown, PEI, Canada (https://www.theholmangrand.com/en/ ).
Luxury, eco-conscious, boutique hotel with a wonderful restaurant and a fabulous bar.
Pet friendly and at no additional charge.
Pool, hot tub, fitness centre, spa (services listed online) on premises.
Hotel-wide complimentary broadband WiFi access.
Walking distance to everything in town, across the street from the Confederation Centre art gallery, theatre, et cetera (https://confederationcentre.com/ ) , and connected to Confederation Court Mall for shopping( https://confedcourtmall.com/ ). Bridges and tunnels available for very wet days.
Valet parking @ $20 per day.
Minutes to City Cinema (https://www.cinemaclock.com/theatres/city-cinema ), the Trailside Music Hall (https://trailside.ca/ ) and dozens of fabulous and varied restaurants and bars.
Minutes to major city parks, the harbor, the yacht club and similar facilities.
ROOMS:
All rooms are deeply discounted for this meeting and 5 nights are included in the cost of the meeting. The hotel will extend the same deep discount to the Friday and Saturday nights before and after the meeting, and has a deeply discounted price for our group for upgraded suites, as available, for members of our group. Additionally, if you wish to bring your family and need additional rooms, the hotel will extend the deeply discounted price to those rooms. Please let us know if you desire any of these arrangements and after booking, we will ensure the hotel manager contacts you about and arranges your requests.
AIRPORT:
Charlottetown International Airport (YYG), 15 minutes by taxi or car from the Holman Grand Hotel. Most flights and, as of this writing, almost all international flights, will connect through Montreal or Toronto. Air Canada currently has good prices for June 2023, but it pays to monitor fares.
COST:
$4300 CAD
What's included in the cost?
5 nights, standard luxury hotel room at the Holman Grand Hotel with option to extend at discounted conference rate
5 breakfasts
5 morning breaks
4 lunches
4 afternoon breaks
All lectures
CE credit (36 credits applied for)
All notes – which will be sent to you electronically before the course
One of the most amazing educational and networking experiences you will ever have!
You will be responsible for the cost of your own travel. Book early for best access and fares, especially if you are traveling internationally.
QUESTIONS?
Dr. Karen Overall: koverall@upei.ca